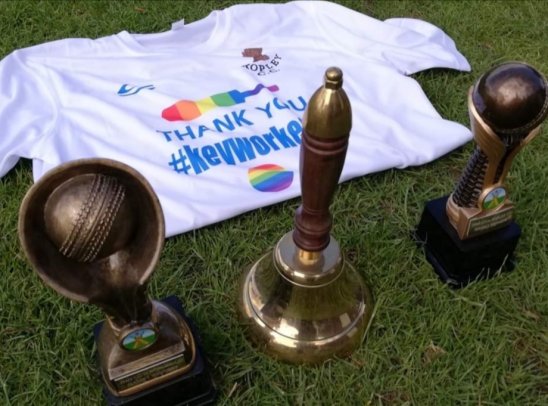 Welcome
Ropley Cricket Club is a long established village club in the heart of Hampshire. During the summer months the cricket club is the centre piece of village life. The club welcomes all new members and spectators will always receive a warm reception.
Ropley cricket club's mission is to provide cricketing opportunities for all members of the community. We seek to provide a club where all ages and all abilities can develop their skills in a friendly welcoming environment. We are an equal opportunities club and support all ECB's policies and guidelines. We have included a statement of Inclusion and Diversity in our Club Rules. For further information see the Summary of the 2019 Development Plan. In support of our mission we expect players, guests and visitors to abide by our policies and standards of behaviour, a copy of the club rules and policies can be found on our website in the Clubmark section.
We need your help TO RAISE £3K
We took a decision at the start of the season not to ask for membership fees: life felt hard for all of us and we had no idea how it would all pan out. Covid has, therefore, had an impact on our ability to raise funds through that and fundraising events and sponsorship. And so, we need your help:

We have turned to 'you' and "Crowd Funding" to help fund two essential maintenance projects to ensure we can continue to offer existing and new members as much cricket as possible next year too.
Refurbish the outdoor nets
Reduce the the water and time required to water the square
If you would like to donate please visit our Crowd Funding page
Ropley CC are recruiting Women & Girls in all age groups and abilities.
JUNIOR OPEN AWARDS 2020
Congratulations to all the junior winners this year.
Batting Award
U11 - James Wren
U13A - Will Carnegy
U13B - Tom Sandell
U15 - Rachel King
Bowling Award
U11 - Florence Harry
U13A - Jake Vallance
U13B - Magnus Gray
U15 - Seb Mitchell
Most Improved
U11 - George Fry
U13A - Olly Whittle
U13B - Owen Harry
U15 - Ted Wharfe
Girls Awards 2020
A little bit of TLC
Tapeball League Cricket on Sunday mornings at the Ropley MUGA. If you are interested in playing please contact Andrew Morris. U16, U18 & Women Tapeball League Cricket.
Floodlight TRAINING - TUESDAY EVENINGS
Tuesday evenings (weather permitting) at the Ropley MUGA for U16 girls and women seniors.

Crick-Fit Sessions - SATURDAY MORNINGS
Keep fit training session for all age groups led by Andrew morris for the close season. Saturdays 10.00 to 11.00 @ RCC.
Winter Nets
covid uPDATE GIRLS TRAINING
Perins will be closing their facilities as of Thursday 5th Nov. Monday 2nd November will be the last session, with a projected resumption date of Monday 7th December.
Girls U9's, U11's & U13's
School years 3 to 8. Indoor training is on Monday evenings 6.00 to 7.00 pm an starts on the 5th October at Perins School, Alresford. Payment is £3 a session and is to be paid upfront in termly session blocks. Please contact Sarah to book your place.
Girls U16's & U18's
School years 9 to 13. Training on Monday evenings 7.00pm to 8.00pm throughout the winter period at Perins School, Alresford. Payment is £3 a session and is to be paid upfront in termly session blocks. Please contact Yvonne to book your place.
Womens
Following the latest government advice the Women's indoor training is on hold at the moment. However, we are looking to arrange Tape ball League Cricket on the MUGA at Ropley every Sunday.
JUNiors
To be announced, though traditionally they run on a Saturday from January through to April.
Seniors
On hold at the moment following the latest government advice.
Looking to play NEXT summer?
If you are looking to play some cricket next Summer whether socially or seriously then we have opportunities available across the club. Why not come along to one of our informal indoor training sessions to have a go at turning your arm or knocking the ball about. Details below.
Alternatively, send an email to membership@ropleycc.co.uk
CRICKET NET - MEMBERS ONLY
Dear Ropley Cricket Club Members
Following ECB guidance we are now able to open the nets for 1 to 1 use or family groups. We must follow both ECB and Government guidelines on social distancing.

We have a booking system ready for members to book time slots. Time slots will be for 50 minutes on the hour, with a 10 minute turn around time between slots. To book a slot you need to email ropleyccnets@gmail.com with
Date & time you want to book
Name of the adult present
Mobile telephone number
We will then reply to you and confirm that time is available or try to offer you an alternative. You need to receive this confirmation before going to the nets.

We will be expecting the adult booking the facility in their name to be responsible for their group in ensuring everything is left as it was when arrived. You must bring all your own equipment including stumps.

We can only offer this booking system to members and they will be regarded as the Club representative on site. We may also ask you to confirm that the membership details we have for you are up to date when booking.

If you are planning on booking the nets please ensure you have read the guidance on the link below regarding your responsibilities.

https://www.ecb.co.uk/news/1668576/ecb-guidelines-for-the-use-of-outdoor-cricket-facilities-in-lockdown

The pavilion will unfortunately not be open for general use.

We will be continually reviewing how this process is working to see if any changes are required.

If anyone has any questions or would like to feedback on the arrangements please drop us an email on chair@ropleycc.co.uk

RCC Committee
LOOKING FOR KIT?
In conjunction with Serious Cricket who are our sports kit partner.
Visit our junior store
Visit our mens store
Visit our womens store