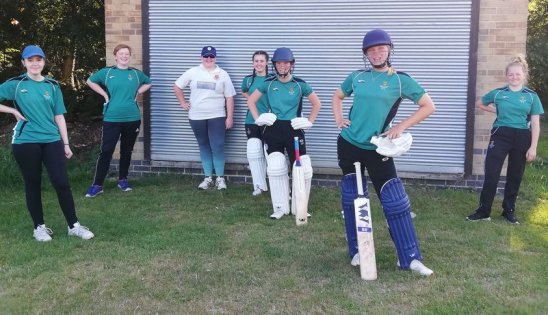 GIRLS Under 16's
Training on Monday evenings 7.00pm – 8.00pm throughout the winter period at Perins School, Alresford. Summer training days and times to be confirmed in 2021
Manager : Yvonne King 07900 565870 yking2@btinternet.com
Coach : Andrew Morris 07970048360 morris5714@hotmail.com
2020 Fixtures wwjc indoor League
NEWS & RESULTS
Following a challenging year for most sports this summer, the Ropley Cricket Club Under 16's Girls players managed to successfully train and play a small number of friendly matches.
This summer, physical health and mental wellbeing has been a priority for the coaches and management of this group of players, all of whom returned to enjoy playing cricket at some point.

The age group is open to all abilities and continues to grow with new players joining and more experienced girls representing the Women's and Open teams.
If you are in school year 9, 10 or 11 and would like to start playing cricket or to continue your development, please do contact us to find out more and how to take part.
2020 Round Up
In so many ways the Girls Under 16's team has followed the same 2020 summer pathway as their GU13's counterparts. Probably the only difference being the additional match taking games played as 3.
We are a small team as far as numbers go - probably no more than 8. So, our previous 'Rainbow' outreach to other clubs not able to provide matches to their players was rolled out for 2020 and we welcomed players from Odiham, Rowledge and Trojans. No one player was able to play in all 3 games, but all players got at least 1 game... something that back in May 2020 did not seem at all possible.
Another unexpected positive was new members coming to the squad. We were very happy to welcome Poppy & Izzy. We also saw players from GU13's not only stepping up but also making a mark - good effort Bella and Grace.
It was evident from winter training that this team would be a force to be reckoned with so coming up against Hursley Park for game one was to be 'the' test. A test which we passed with flying colours beating the opponents who until then seemed unbeatable. Notable figures Bella 45 NO & Rachel 51 NO.
The second match was a long trek to Yateley. We were able to not only take our new bloods Issy and Poppy but also ensured they got to partake in all elements of the game. A monumental batting performance posting 213 in 20 overs (Rachel 76 NO, Charlotte 51 & Lottie 40) allowing for all players to be involved throughout. Great bowling from all of the team with specific mention of Charlotte's 2 for 11 meant a second victory.
Our 3rd and final match was a return to Hursley Park which on this occasion invoked our 'Rainbow' team including players from Ropley, Yateley, Odiham, Rowledge & Trojans. Another close game which went head to head over per over. So much so Hursley Park only won the game at over 19.4!
Like the GU13's our intent was to get the game on and we are so proud of all our players and their parents for doing exactly that, those stato's amongst us may be interested in knowing that over the three matches Rachel topped the batting scoring 127 in 2 matches (with 2 NO's so officially an average cannot be delivered) and Charlotte topped the bowling playing 2 matches with 2 wickets for 25 runs and an average of 12.5.