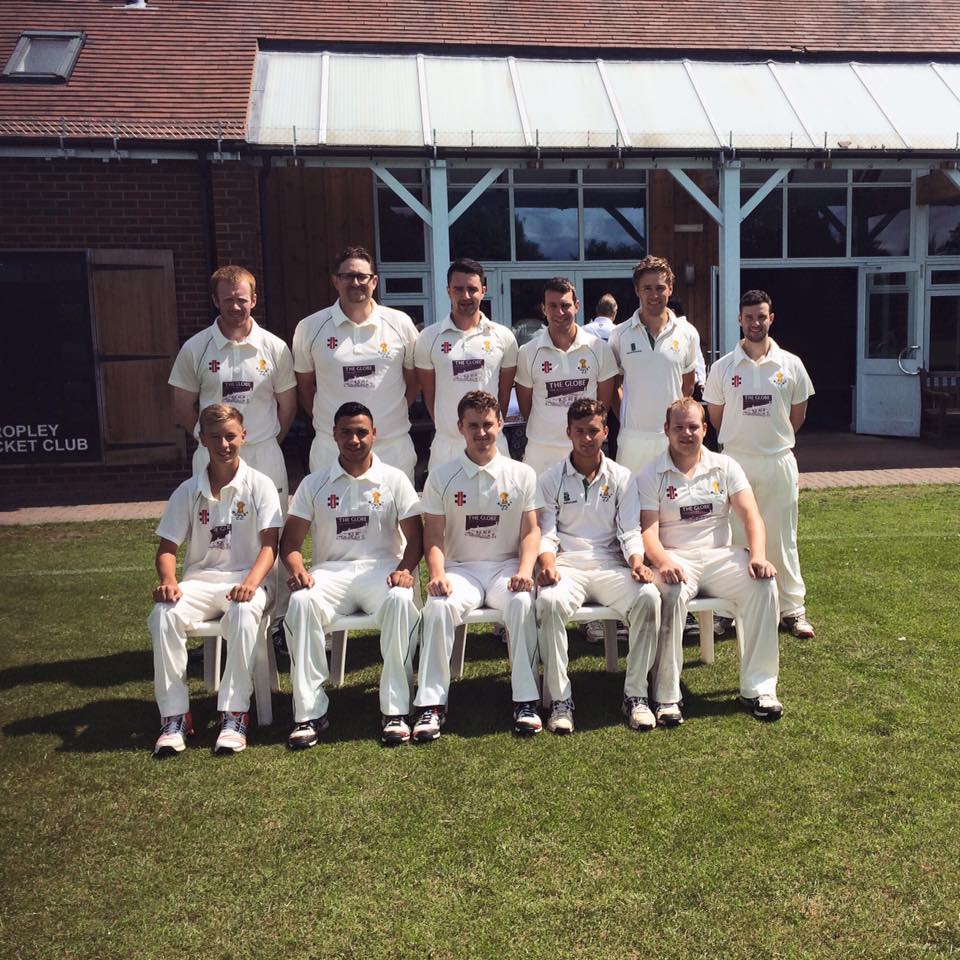 1XI
County Division 1, Hampshire Cricket League
Please email the captain or vice captain with your availability:
Captain - Alex Stogdon
Vice Captain - Ed Stennett
2017 Fixtures
match reports
ROPLEY 1 V. OTs & Romsey II
SATURDAY 26TH AUGUST 2017 AT southampton Road, ROmsey
Ropley 212 for 8 in 50 overs
OTs & Romsey II 139 all out in 36.1 overs
Ropley won by 73 runs
Ropley 22 points
OTs & Romsey II 6 points
Ropley overtook Hook and Newham Basics with a 22 point win over Romsey 2nd XI to secure fifth place in the 2017 Hampshire County 1 cricket league. Vice-Captain Edward Stennett took charge this week winning the toss and electing to bat, a brave decision bearing in mind runs were not going to be scored easily with grass reaching 2.5 inches long on the outfield.
Opening bat Robert Smith (87) led the charge with aggressive cover strokes against early spin bowling by Stuart Shapland (2-25) and James Trodd (1-48), Romsey achieving only one wicket in 18 overs and that being the first over of the day with James Forrest (0) gifting a catch to mid-off. Jack Ireland (34) stuck with Smith for 17 overs to bring Ropley's total to 70 after 18 overs before being caught by Trodd . Ropley's middle order batsmen all joined Smith's attempt of a century-scoring innings however none of them scored above 20 runs. Paul Longland (3-51) was the most notable bowler for Romsey who through sheer aggression dismissed Ropley's highest run scorer of the day.
Ropley took the field after tea with high hopes of a quick win to return to Ropley pavilion for "end of season" drinks and celebration. Romsey however had other ideas and sought to play a safe and controlled innings, losing only 1 wicket in 10 overs to Edward Stennett (2-22) with a one handed second-slip catch by Samuel Graham, to dismiss Elliott Mitchell-Lee (4). Romsey's luck soon turned as Ropley brought in the spin attack, of which there were many, to quicken the over rate and liven up Romsey's run chase. James Forrest (5-50) struck first by dismissing number three Colin Morris (32) lbw. Seb Newens (2-26) struck second by dismissing Will Edwards with a first ball duck, well caught by Myles Greenwood charging in from square leg boundary. Forrest continued to bowl loopy top spinners and full tosses to which Romsey had no answer, continually falling victim and allowing a 5-fer for Forrest. Scott Naismith (1-31) and Stennett made short work of Romsey's tail leaving Romsey stranded on 139 all out, well short of their target.
ROPLEY 1 V. RYde I
SATURDAY 19TH AUGUST 2017 AT vicarage lane, ropley
Ryde 281 for 8 in 50 overs
Ropley 184 all out in 43.5 overs
Ryde won by 97 runs
Ryde 24 points
Ropley 8 points
A depleted Ropley side proved second best against opponent number two from the Isle of Wight with Ryde winning the toss and electing to bat. Opener Ed Stennett (2-52) bowled with high confidence after last week's performance, trapping Ryde's opener Ellis Ridett (6) lbw in the third over. Ropley's increasingly frequent tactic of opening with spin proved successful yet again with Seb Newens (2-28) forcing a loose mid-wicket slog from Ryde's number three, Tom Morgan (4), caught in the deep by James Forrest.
Ropley's momentum took a turn for the worse with Cameron Mitchell (74) and Joe Martin (38) dominating the middle overs. With Mitchell succumbing to an lbw from Jack Ireland (1-61) in the 34th over, the hard work was not over with Stuart Robertson (54) and Ashley Goldsmith (47*) providing hard hitting and excellent running to exploit Ropley's bowling efforts and forever increasing the run rate. Youngster Joe Austin (2-65) ended Robinson's innings, well caught by Ed White.
In reply Ropley needed 5.62 runs an over to win so a repeat of last week's venture to Ventnor was needed. Alas it was not to be with an excellent first over stumping by keeper Tom Morgan seeing opener Stennett off with a duck. Tom Wood (20) batted patiently before falling lbw to Robertson (2-27). Batsmen 3 and 4, Ireland (66) and Chris Rait (35) dampened Ryde's early confidence with fierce boundary strokes and quick singles to achieve a score of 110 for 2 at drinks. The old saying of "drinks bring wickets" haunted Ropley's run chase with Rait being dismissed in the 27th over by Goldsmith (4-42). With six wickets remaining and Ropley on 140 for 4 after 33 overs, the required run rate increased to over eight an over. Goldsmith and Cameron Mitchell (3-6) made short work of Ropley's remaining six wickets with only two batsmen scoring double digits. Ryde's bowling attack brought them a 97 run win and Ropley's fifth loss of the season.
Ropley 1 v. Ventnor II
Saturday 12th August 2017 at Steephill, Ventnor
Ropley 215 all out in 49 overs
Ventnor 142 all out in 38.5 overs
Ropley won by 73 runs
Ropley 22 points
Ventnor 7 points
Ropley had a day trip out on Saturday on a bus driven by long-standing and long-suffering scorer Merv Durrant. The former Royal Marine was unfazed by the ribald and perpetual commentary from his passengers, the subtlety of which seemed to be in inverse proportion to the volume, especially on the homeward leg. His enigmatic smile behind the wheel even suggested his approval and appreciation of the chant "Merv is our leader". A very early start from Ropley and a late return gave more than adequate opportunity for merriment and a thorough exploration of some of the more arcane reaches of early Anglo-Saxon. A full English breakfast en route, swimming in the sea and football warm-up trying to master the borrow required of the banks at Steephill were but a few of the activities of the day. The most bizarre exchange was between two of the younger members of the team and the Captain when they asked if he had ever been in the Bermuda Triangle. As the Captain in question was that of the Red Funnel ferry, the rest of the team thought it unlikely. And then there was, of course, the cricket.
Ropley chose to bat on what appeared to be a flat track. Promoted to opener, all-rounder Ed Stennett showed what can be achieved by playing yourself in with the prospect of facing fifty overs. He and Tom Wood (9) made a steady start with Wood driving two powerful boundary shots along the ground through the V despite the vertiginous route to the line. He was then unlucky enough to get what was probably the only ball of the day which misbehaved, sticking in the pitch and clipping the shoulder of his bat to yield the simplest of chances gratefully taken by Mark Fletcher at mid-wicket off John Buckman (2-48). Rob Smith (22) and Stennett put on 51 for the second wicket when Smith was caught off Dan Russell (2-31). Jack Ireland had been sitting on the pavilion balcony salivating at the prospect of batting on such a track. The problem was that he left all reason on that balcony and his failed reverse sweep, second ball, bagged him a duck, lbw to Russell. This brought Alex Spencer (9) to the crease with the confidence borne of his 151 not out on his last visit to the island in 2015. He certainly looked the part as he and Stennett pressed the accelerator, adding 53 at just shy of five an over. The burgeoning partnership came to an unexpected and sudden end when Spencer's pull of a very short head high bouncer from Sam Read (1-31) caught the bottom edge and crashed into the stumps. Stennett was the next to depart for a well-made 85, including 12 boundaries, the only victim for Tom Leon (1-43).
Skipper Alexander Stogdon, sporting the damaged finger from last week, scored a quick-fire flamboyant thirty-three off 23 balls before holing out in the deep, the first of four scalps for Charlie Sammons (4-21). Neil White (18) was the next to go, bowled by Sammons, followed by Jack Oxenham (13), bowled Buckman, both batsmen having displayed some elegant ground strokes and swift running between the stumps. Joe Austin (3*) was left stranded with an over unused after Seb Newens (5) and Phil Austin (0) both fell to Sammons and Ropley posted what was a below par 215.
What then followed was extraordinary in the annals of Ropley, particularly compared with other matches this season. Ropley did not drop a catch, pouching all seven on offer, and only bowled seven wides. Stennett (2-23) opened the bowling and was unchanged for his full allocation of ten overs, the thought being that after his two hours at the crease he would probably seize up if asked to come back on. Spinner Seb Newens (2-28 off 7) took the new ball at the other end. Ventnor made steady but not spectacular progress but only needing just over four an over the base was solid enough. This looked to be more the case when skipper Martin Blackman took charge in the middle order and began to cause Ropley a degree of anxiety. Keeping the scoreboard moving and dispatching anything loose to the boundary, he might have taken his side over the line with just slightly better support.
Ireland took the first change at the sea end. Whether it was the incoming tide, the nice downhill run-in or a product of reflecting on what might have been with the bat he certainly bowled a good yard faster than has been seen so far on his trip from down-under. His 3-28 off 7 included the removal of the middle stump twice and a caught behind by Spencer to dispatch Ali Cotton (4), who has in the distant past turned out for Ropley in the mainland evening league. Blackman pushed on, clearly needing to make the running with no other bat reaching twenty. His impressive innings came to an end when he was caught off seventeen year-old Jack Oxenham who put in his best ever senior performance with a 2.5 over spell yielding him 3 for 11. This included the last two wickets off successive balls to see Ventnor all out for 142 in the thirty-ninth over.
Booked on the 9 pm ferry and the game over at 6.30, Ropley made best efforts to drink the pavilion dry. And then there was the return trip………but as they might say, what happens on the island stays on the island!!
Ropley I v. Fareham & Crofton I
Saturday 5th August 2017 at Vicarage Lane, Ropley
Fareham & Crofton 236 all out in 50 overs
Ropley 93 all out in 27.2 overs (Target 219 in 43 overs)
Fareham & Crofton won by 143 runs
Ropley 5 points
Fareham & Crofton 23 points
With it being weeks since a game was played at Vicarage Lane, Ropley, there was an air of excitement on August's first Saturday - sadly for Ropley, they may have wished it was still raining.
After both teams completed their respective warms-ups of Association Football, the toss was completed and Ropley skipper Alexander Stogdon chose to field after winning for only the third time this season.
Fareham and Crofton's innings did not get off to the best of starts with Jimmy Hawkings nicking off Ben Kissane for one. Virat Sahu and Reece Abrams (7) were then tasked with trying to negotiate a dampish wicket and Ropley's new ball. Sahu was particularly impressive with an arsenal of shots through the offside - big things to come of the U16 batsman.
However, the rebuilding only lasted 16 runs with Sahu trapped lbw for 15 by Hawkings - who was showing the Ropley crowd a vast array of stretches in between balls, sore from his previous evening's endeavours on the football pitch. Shortly afterwards a mix-up and a slip saw Abrams run out after 'keeper Spencer took the bails off with the second attempt.
To the harmonious symphonies of thunder and lightning, Fareham and Crofton's innings was then left to their middle order. Although initially tricky, their skipper Tom Kent (55) and Sam Stoddart (20) played very well. When the latter was bowled by Jack Oxenham (1-17), Luke Cornish's arrival coincided with the August sunshine. Did the wicket start to flatten or did Ropley lose their way? A bit of both. Cornish took the game to Ropley with some good defence and selective hitting. One very impressive six over cover off the front foot was a particular highlight. After Seb Newens (1-49) bowled Kent off a quicker ball, Ollie Southon (24) provided good support.
With the departure of these two, Southon well caught in the deep by Rob Smith off the bowling of Ireland and Cornish bowled by the returning Hawkings, F&C were then all out for 236. Hawkings (4-22) and Ireland (2-38) being the pick of Ropley's bowlers and 38 sundries (including 5 off the helmet behind the lackadaisical 'keeper Spencer) being F&C's third top scorer.
Chasing a revised total of 219, Ropley's innings never got going. Hawkings and Smith were both gone for 6 apiece - bowled and caught respectively. Ropley's two antipodeans, Chris Rait (10) and Ireland (0) were at the crease together although only for a short while as Rait was caught behind and Ireland caught at point - a phenomenal one handed pluck from Cornish. It went from bad to worse as Spencer (3) swiped and was caught by another spectacular catch at cover, this time by Kissane. Stogdon (12) showed some promise, despite having to bat one-handed having damaged a finger in the process of dropping a catch in the first innings, but when he was caught behind followed shortly by Ed Stennett (13) Ropley were all out for 93. The one shining light was youngster Joe Wheeler (8), who at 14 looked very comfortable at senior level.
Ropley brave the seas next week as they travel to Ventnor where they will be looking for a repeat of their last visit in 2015.
ROPLEY I V. shrewton I
SATURDAY 15TH JULY 2017 AT vicarage Lane, ropley
Shrewton 207 for 8 in 50 overs
Ropley 210 for 5 in 42.1 overs
Ropley won by 5 wickets
Ropley 23 points
Shrewton 7 points
On an overcast day, Ropley hosted the dangerous Shrewton in a crucial mid-season encounter. Captain Alexander Stogdon passed over coin tossing duties to a fellow player in a desperate attempt to break his horrific record for the 2017 season. Unsurprisingly, Ropley lost again and were put into the field on what looked to be a good batting wicket.
Left hand quicks Edward Stennett (1-47) and Jack Ireland (2-34) got proceedings started for the depleted 10 man fielding side and were greeted with a flurry of edges through the slips from the Shrewton openers. Stand-in wicket keeper, Rob Smith, was unable to cling on to a regulation nick in the second over off batsman Daniel Bingley (56*) which looked to be heading straight to first grabber. Despite the solid start from the Shrewton openers, the runs soon dried up as Will Sleeman (36) was caught from a top edge off the bowling of Stennett. Jack Oxenham (1-35) was introduced in the next over and, bowling with good rhythm, immediately accounted for the Shrewton number 3 who chipped a loose drive to cover. Oxenham and Stennett continued with the total slowly rolling along from 36-0 to 72-2 in the first and second ten overs respectively.
Experienced spin bowler, Martin Peters (3-30) bowled with canny accuracy in the middle period and took wickets with consecutive balls in his third over. He was assisted at the other end by slippery debutant under-14 Joe Wheeler (0-19) whose impressive stump to stump bowling gave the batsman almost nothing to work with. Consequently the opposition limped to 136-5 off 40 overs.
Fellow under-14 Joe Austin (1-32) stepped up well to the task of bowling the death overs with Ireland, but despite their best efforts, the batsman were able to score quickly using the wickets that they had kept in hand. Ireland took 2 more but some improvised ramping from Bingley and excellent running between the wickets meant that Shrewton reached a competitive total of 207-8.
Ropley started positively in reply with late arrival Jimmy Hawkings (30) and Tom Wood (19) putting on 52 for the first wicket from 12 overs. Hawkings, who had been unable to bowl due to the length of his absence from the field, was particularly pleasant on the eye with a selection of silky cover drives and was well supported by Wood until he perished, chipping to cover off the bowling of right arm seamer Paul Clancy (2-36). Clancy soon accounted for Hawkings who was calmly caught at second slip. The introduction of spin from Chris Breiner (1-43) saw Smith (8) swiftly back in the hutch but brought Ireland (67*) to the crease. Ireland joined a 'flu-suffering Myles Greenwood (8) with the score at 72-3 off 20 and Ropley in a spot of bother. Ireland soon started to counter attack against Breiner and the leg spin of James Cash (1-32) unleashing some powerful shots down the ground. The most impressive of these was a pull of a short ball which ended up disappearing into the forest canopy at long-on. After Greenwood holed out off Cash, skipper Stogdon arrived at the crease and was just in time to reel off his repertoire of sweep shots against the Shrewton bowlers. Ireland continued to dominate the bowling and was then joined by Peters (17*) who calmly helped to knock off the last 50 runs to hand Ropley a convincing 5 wicket victory.
Ropley now occupy 5th place in Hampshire Division 1 requiring a string of wins to break back into the top 3.
ROPLEY I V. PORTSMOUTH & southsea I
SATURDAY 8th JULY 2017 AT locksway ROAD, PORTSMOUTH
Portsmouth & Southsea I 265 for 8 in 50 overs
Ropley 194 all out in 44.3 overs
Portstmouth & Southsea won by 71 runs
Ropley 8 points
Portsmouth & Southsea 24 points
Ropley drop to 6th in the Hampshire League County Division 1 after a 71 run defeat to 3rd place Portsmouth and Southsea.
P+S won the toss and elected to bat unaware of a last minute tactical change by Ropley. Spinner Seb Newens (3-43) opened the bowling alongside Jack Ireland (0-41) with immediate effect, taking the wicket of Jack Davies (8) and number 3 Matt Benfield (17) leaving P+S on 37-2 after 6. A strong partnership between Steve Clements (60) and Tom Benfield (19) saw P+S through to 81-2 before Newens bowled Benfield in the 18th over. Shaun Briggs (48) joined Clements to frustrate Ropley for 22 overs until being caught by Ireland at the long on boundary off the bowling of part-time spinner Rob Smith (3-49). Skipper Alexander Stogdon (0-37) bowled a rare 10 over spell in the middle overs but failed to find a wicket to Ropley's dismay. P+S continued to apply run scoring pressure, despite a tidy spell by youngster Jimmy Hawkings (2-38) who was not allowed until earlier having arrived an hour late. Excellent running between the wickets and many fielding mistakes brought P+S to 265 after their 50 overs, with 100 runs coming from the last 15 overs.
Excellent running between the wickets and many fielding mistakes brought P+S to 265 after their 50 overs, with 100 runs coming from the last 15 overs.
Ropley took to the crease with high confidence after last week's 6 wicket win over US Portsmouth. P+S applied similar tactics and held back their pace bowler Joe Willey (1-28) until the middle overs. Ropley's top order batsmen faced wicket to wicket style bowling by Matt Benfield (1-31) and Jake Peach (1-42) to deny Ropley any chance to open up their shoulders to a wide delivery. Opener Tom Wood (41) played cautiously but attacked where needed until being yorked by spinner Kieron Dunstan (4-41). Dunstan's flight and line proved difficult for Ropley's top order with three of his wickets being lbws.
At the half way point, with Ropley at 79-3, a far more attacking approach was needed to secure a victory. Alex Spencer (24), Ireland (22) and Stogdon (31) took on the chase however even reverse sweeps and attempted ramp shots by Hawkings (12) did not faze P+S as pace bowler Willey denied any chance of Ropley scoring at the ever increasing required run rate. A late attacking innings by Jack Oxenham (25) and Joe Austin (12*) provided a glimmer of hope but the task proved too much for Ropley as they were bowled out in the 45th over, 71 runs short of the target.
ROPLEY I V. united Services Portsmouth I
SATURDAY 1st JUly 2017 AT burnaby Road, Portsmouth
US Portsmouth I 139 all out 42.4 overs
Ropley 140 for 4 in 35.1 overs
Ropley won by 6 wickets
Ropley 22 points
US Portsmouth 4 points
Another week, another coin toss won by the opposition put Ropley into the field at the old county ground in Portsmouth. Opening bowler Ed Stennett (3-23) accompanied by a run restricting spell by Jack Ireland (0-16) stunned the opening batsmen and left US Portsmouth on 30-2 after 13 overs. Shashi Jayasinghe (42) in at number four played a slow but steady innings to keep the scoreboard ticking over but failed to find a mid-order batsman to stay with him in the middle overs before edging an arm ball by spinner Seb Newens (3-31) into the hands of first slip.
A late cameo by Jonathan Parker (17) and youngster Freddie Gadd (17*) provided tail end entertainment before Parker was trapped lbw by Joe Austin (2-38). Austin, twinned with Jack Oxenham (2-29), dismissed US Portsmouth's tail and left the hosts on 139 all out in the 43rd over.
With 140 as their target and 50 overs to achieve this, openers Rob Smith (14) and Chris Burrows (31) mimicked US Portsmouth's run rate until Ali Bhaks (1-27) dismissed Smith with an inviting wide delivery pouched by keeper Tom May diving to his right. This wicket brought in Alexander Spencer (31) to join Burrows for a 51 run partnership to see Ropley to 67-1 after 20 overs. First change bowler for US Portsmouth, spinner Matt Easton (2-43) bowled Spencer in the 21st over and Ireland (17) in the 27th to apply much needed pressure to batting side. Skipper Alexander Stogdon (28*) joined Burrows needing 47 runs to win off 23 overs. Freddie Gadd (1-24) provided a glimmer of hope to the home side by bowling Burrows three overs later but it was too little too late for US Portsmouth as Ropley saw off the remaining runs with 14.5 overs to spare.
This result puts Ropley into 4th position in the league table.
ROPLEY I V. longparish I
SATURDAY 24TH JUNE 2017 AT vicarage LANE, ropley
Longparish I 225 for 7 in 50 overs
Ropley 141 all out in 38 overs
Longparish won by 84 runs
Ropley 5 points
Longparish 23 points
Ropley dropped to 5th in Hampshire League County Division 1 following a comprehensive defeat to Longparish.
Longparish won the toss and elected to bat under the moody skies of Ropley. A lethargic start from a largely sleep-deprived Ropley - an evening of dinner and dancing had been, in the opinion of the grumpier members of the club, unfortunately scheduled - gifted the visitors some easy runs early on. Michael Taplin (55) and Ben Gardner (33) got Longparish off to a flier; the opening bowlers struggling to find a consistent line and length in the blustery winds.
As has become quite familiar this season, it was Jack Oxenham (3-45) who made the breakthrough for the hosts - Gardner caught behind by Alex Spencer. The Ropley bowlers started to hit their lengths and the run rate slowed. Oxenham struck again in the 24th over, having Taplin caught at extra cover for a well-made half century. Fourteen year-old Joe Austin (2-39) bowled the final over before drinks - his first over for the 1st XI - and had an immediate impact with his controlled off-spin, having Tom Trinder (10) caught in the deep by George Wickens.
The visitors would have hoped to convert their 119-3 at drinks into a big total. The wicket was playing very true and the outfield was quick. Jonnie Wahid (44) at number four was dropped at mid-on early in his innings but played well to get Longparish up to a competitive score, sweeping particularly adeptly into the deep. James Bevan (16*) and Paul Blackmore (9*) provided the wag in the tail to set Ropley 226 to win.
At 6-2 after four overs, it was always going to be a tough ask for the now very tired hosts. Robert Smith and Jack Ireland were the men removed early. Scott Sturt (2-17) bowling pacey left arm up the hill accounted for Smith (0) and Chris Clarke (1-17) induced a miss-timed pull from Ireland (1).
Tom Wood (30) and Alex Spencer (24) rebuilt for Ropley and looked to be in great control, scoring at a little over three runs per over, until Wood timed one nicely off his legs straight to mid-wicket. Ropley skipper Alexander Stogdon hit a quick-fire 22 - putting on 32 for the 4th wicket - before skying a poorly selected pull-shot. Ed Stennett (1) and Spencer followed quickly after and at 87-5 the game looked all but over for Ropley. Seb Newens and George Wickes (both 17 runs) provided entertaining cameos but Ropley were eventually bowled out for 141. Sturt and Jack Levy (3-37) were the pick of the bowlers for Longparish.
ROPLEY I V. HYTHE & DIBDEN I
SATURDAY 17TH JUNE 2017 AT jones Lane, hythe
Hythe & Dibden I 298 for 7 in 50 overs
Ropley 220 all out in 46.3 overs
Hythe & Dibden won by 78 runs
Ropley 8 points
Hythe & Dibden 24 points
Ropley lost their first match of the season and their top slot in County Division 1 with a seventy-eight run defeat to Hythe and Dibden. It was not a good day to field a side with only six regular first team players nor to lose the toss on what was undoubtedly the hottest day yet this year. Understandably, the hosts chose to bat and let their visitors wilt in the searing heat. To make matters worse, Ropley bowled so many wides and no-balls that they had to deliver the equivalent of five extra overs. Added to the mix, or perhaps because of it, three dropped catches and some questionable ground fielding allowed Hythe to post a formidable 298 for 7 in their extended innings.
Hythe lost their first wicket on 39, Matt Young (9) well caught by Charlie Conduct on the mid-wicket boundary off Jack Oxenham (2-66). Inam Agha (32) and skipper Tom Richards (63) seemed to be settling in well until a schoolboy runout did for Agha who later admitted while sitting in the shade of one of Hythe's huge oak trees that his dismissal was a merciful release from his seventy minutes in the cauldron.
Sam Redford retired hurt on 14 having ruptured his Achilles. This brought the formidable New Zealander Tarin Mason to the crease. He and Richards plundered runs, moving the total on to 220 before Richards was caught off Ed Stennett (3-67). Unfortunately for Mason, there was no hint of his progress from his watching team mates nor individual scores on the telegraph which may have accounted for Mason's departure, caught off Jack Ireland (1-47) for a brilliant 99. Archie Gilbert put on 22 and with the 38 extras Ropley was left with the task of chasing at rate of almost six an over, achievable with the right application.
The Ropley top order all started but did not convert. Tom Wood (22) got impatient with the run rate and holed out off Agha (1-43). Stennett (20) was well bowled by the ubiquitous Mason (2-27) and Chris Fuller (12) was trapped in front by Jonjo Stovell (2-82). Aussie Jack Ireland (28) seemed to have the potential to guide Ropley home with his clean hitting of anything loose but succumbed to fellow antipodean Mason with an unnecessary swipe which thinned to the wicket keeper. However, the entertainment for the spectators was not over quite yet. Three minutes before Ireland's departure, Ropley skipper Alexander Stogdon had joined him in the middle. His innings was audacious from the start and in entertainment value even surpassed that of Mason in the first innings. Scoring at a strike rate nearing 200, he employed every shot in the book, and some not in it, dispatching the ball to all parts of the ground and out of it. Switch hitting, reversing, paddling and even some conventional shots gave Ropley some hope that they might make the target if he could continue at this rate and someone could stay at the other end. Sam Graham (6* off 45 balls) undertook this task but the fairy-tale outcome was not to be as Stogdon missed a good in-swinger from Ahmed Ahmedzai (2-36) to end his innings on 94. Ropley was then all out for a respectable 220 in the 47th over. The other wicket taker was the talented all-rounder Richards who bagged 3 for 29.
ROPLEY I V. Hook & Newnham Basics II
SATURDAY 10th june 2017 AT vicarage Lane, Ropley
Hook & Newnham Basics II 154 all out in 41.4 overs
Ropley 156 for 3 in 36.1
Ropley won by 7 wickets
Ropley 23 points
Hook & Newnham Basics II 4 points
After two nervous victories in as many weeks, Ropley managed to find some form and record a far more convincing home victory against Hook & Newham II.
Winning the toss and batting, the visitors got off to a flyer thanks to Harry Warner (36) and Joe Alnutt (31). At 60-0 off 10, Hook were in a commanding position.
Jack Oxenham (2-36) came on first change after Jimmy Hawkings' spritely first few overs and made the breakthrough in his third over - an unplayable ball nipping back down the hill to bowl Alnutt. Hook skipper Kevin Light joined Warner and the pair put on a patient 22 before Light also fell to Oxenham - caught behind for 13. Liam Doran (22) at number four looked the most assured of the batting line-up, hitting the ball cleanly through the line. At 114-2, Hook were back in command, the batsmen now comfortable with the pace of the pitch. However, Warner could not make the most of his start and an attempted late cut off the bowling of Jack Ireland (1-25) only found the bucket hands of Robert Smith at slip.
Matt Stears (5-20) came on to bowl in the 28th over and sparked a spectacular batting collapse. His five wickets, coupled with a sharp single stump direct hit run-out by skipper Alexander Stogdon and an lbw for Seb Newens (1-26) saw Hook lose 7 wickets for 32 runs and all out for 154 - a score clearly well below par after their opening stand.
Ropley received some early warnings, from Liam Shore, that the chase could be tricky but Robert Smith (44) and Tom Wood (67*) soon found their stride. Good running between the wickets and some elegant strokes through the covers had Ropley cruising along at four runs an over.
In the 22nd over Smith chipped a horrible long-hop in the air to gift Hook a wicket. Ireland hit a brisk 17 - caught behind off Rupert Armstrong (1-27). The loss of last week's saviour Alex Spencer, lbw without scoring, created a bit of a wobble for Ropley but 24 runs off the following four overs from Wood and Stogdon (12*) saw the hosts home in the 37th over.
ROPLEY I V. New MILTON II
SATURDAY 3rd june 2017 AT NEW MILTON
New Milton 135 all out in 47.3 overs
Ropley 136 for 8 in 40.2 overs
Ropley won by 2 wickets
Ropley 20 points
New Milton 6 points
Another week, another nail-biter.
After finding a few minutes to satisfy the demands of the league cricket paparazzi, Ropley were asked to field by their hosts, New Milton II.
On what most would quickly realise to be a tricky wicket to bat on, Ropley had a strong start. Jimmy Hawkings - taking a break from A-Level revision - supplied Robert Smith at first slip with a catch off the edge of Will Crossley's bat (5). Ed Stennett (3-33), bowling into the wind, quickly accounted for the other opener, Jonny Hale, for 3. 14-2 after 8 overs quickly became 15-3 - Stennett having Ben Griffiths trapped LBW without scoring.
Josh Arnold at number 4 for New Milton looked the most settled batsman of the day; his 55 crucial in providing the hosts a score they could conceivably defend. Arnold did most of the scoring alone, struggling to find a partner to stick around with him. When he was finally removed in the 34th over, stumped by Spencer off the bowling of Seb Newens (2-32), New Milton were 94-7. Skipper Matt Baker (15) and Dave Crossley (16) contributed some runs at the end of the innings, but Ropley killed off any real threat with two impressive run outs - one a direct hit from the deep from Hawkings. New Milton all out for 135 in 47th over.
The away trip to New Milton has been a banana skin of a game for Ropley for a few seasons. In 2016, at 120-2 chasing 190, Ropley managed to lose their remaining 8 wickets without passing 150. As such, an easy chase was never on the minds of the visitors.
Josh Arnold, with 3-5 off his first 3 overs, had the visitors reeling at 14-3 - Ropley well and truly back in New Forest Nightmare Mode. The Ropley top three were dismissed for a combined total of 3 runs, leaving overseas Jack Ireland (28) and Alex Spencer (41) to build the foundations. Spencer played a controlled and patient innings almost all the way through to victory, before being bowled behind his legs by Matt Baker (1-38), to prompt a nerve-racking end to the game. Ireland had been caught on the ring trying to get on top of the New Milton attack. Ed Stennett (19) provided brilliant support for Spencer, just a week after bailing his team out of a sticky situation batting first against Rowledge II. Stennett fell with the score on 122 and Spencer would go just 7 runs later.
The remaining 7 runs did not come easily. Seb Newens was caught behind for 3, leaving 14 year old Joe Austin (2*) and Hawkings (7*) to complete the job for Ropley by a two wicket margin.
ROPLEY I V. ROWLEDGE II
SATURDAY 27TH MAY 2017 AT VICARAGE LANE, ROPLEY
Ropley 182 all out in 50 overs
St Cross 137 all out in 46.1 overs
Ropley won by 45 runs
Ropley 20 points
Rowledge 7 points
Two, if not three, games were won single-handedly in the 2016 season by the unflappable Ed Stennett - Ropley's opening bowler turned resolute all-rounder.
Having opened the batting in the first game of the season, he has gradually found his way back to a position that has proven so valuable for the team. Coming in at number 8, with the score on 98, few expected Ropley to post a competitive score against the visitng Rowledge II.
The Rowledge seamers had bowled brilliantly on a tricky batting wicket. Simon Bonser (2-19), bowling up the hill, showed little sign of serving up a bad ball and led the way with impressive economy and an ability to move the ball off the surface. He was ably supported by Harry Neate (2-40). Of the 11 bowlers used on the day, only 1 didn't register a maiden. 16 were bowled in total!
Ropley lost wickets at regular intervals, mainly to good bowling with the exception of a horrible swipe from Ropley Skipper Stogdon (12) and the unfortunate run out of Alex Spencer (2). Rowledge 'keeper Harry Cann took a brilliant catch off the inside edge of dangerous-opener Rob Smith's (21) bat. Australian Jack Ireland scored a powerful 41 before being caught off the bowling of Rowledge captain Shea Taylor (3-49). It was 14 year-old Joe Austin, coming in at number 10 for Ropley, who provided the valuable support for Stennett (55) - the pair put on a game-changing 68 to take the hosts to 182.
An incredibly young Rowledge side started badly in reply. Rob Woodliffe (3) was trapped LBW by man of the match Stennett, to a big inswinger, and fellow opener Sam Marshall (11) followed shortly afterwards, caught at slip off a rising delivery from Jack Ireland. Ollie Baker (11) and Harry Cann (24) survived an impressive spell from Ireland and put on a composed 30 for the third wicket before Baker was well caught at mid-wicket off the bowling of Stogdon.
Ropley took advantage of the inexperienced batsmen by racing through overs - making no time for any batsman to settle. The Rowledge batsman did nothing to disrupt the pace of play and the run rate in the middle overs dropped below 2 runs per over.
Seb Newens, bowling his mystery spin down the hill, sparked a middle order collapse. With the score on 63, he bowled Tom Nicholls for 10 and the game then raced away from the visitors. 5 wickets were lost for 19 runs, including two ducks - one of which a difficult caught behind by Spencer off the bowling of Stennett - leaving Rowledge on 84-8. Will Ryman (31), playing his first game for the club, came in at 10 and struck the ball beautifully. His cameo - included a huge six over wide mid-on - got Rowledge to within 50 runs but Ireland and Newens returned for second spells to extinguish any hopes for the visitors and they fell 45 runs short.
ROPLEY I V. ST CROSS III
SATURDAY 13TH MAY 2017 AT ST CROSS

Ropley 276 all out in 45.5 overs
St Cross 242 for 9 in 50 overs
Ropley won by 34 runs
Ropley 23 points
St Cross 11 points
Ropley might be struggling for supporters for their next fixture, following a staggeringly poor display of fielding against St Cross III.
St Cross were well behind the rate for long periods of their chase of 276 - perhaps a contributing factor in the lethargic display in the field by the visiting Ropley. The total, however, did prove too much for the hosts, despite 57 from opener Tom Fay and 76 from the ever-consistent Steve Berryman.
Ropley won the toss and batted on what became a nice May afternoon. Pranay Rathod - excluding a flurry of front-foot no-balls - bowled well, using the slope and some away-swing to beat the bat of the openers at a good pace. Rathod removed opener Rob Smith without scoring, and Australian Jack Ireland followed quickly after - caught at cover off the bowling of Steve Fryer (2-36). Tom Wood and Alex Spencer steadied the ship, putting on 83 for the third wicket. Wood fell to the inswing of Henshall (1-33) for a well-made 74, which included some powerful straight hitting. The next 13 overs, featuring some fairly agricultural hitting and good running between the wickets, yielded 131 for the 4th wicket. Ropley skipper Alexander Stogdon scored 78 off 45 balls and Alex Spencer 55. Twenty six runs came from the 32nd over - potentially a turning point in the game as the projected score looked like an alarming one for the hosts. Fortunately for the Winchester side, 7 wickets fell for only 36 runs, thanks to good return spells for leg spinner Tom Fay (3-39) and Rathod (4-47).
The less said about Ropley's fielding, the better. After Fay and Berryman, the top scorer was probably the gap in the limbs of the Ropley fielders. Seb Newens' 10 overs for just 26 runs took the game away from the hosts, and despite a few dropped chances and some late hitting from Steve Fryer (35) at number 9, the hosts finished 35 runs short.
Despite missing out on maximum points by failing to dismiss the hosts, Ropley share the top of the table with OTs & Romsey II and Lymington II.
Ropley I v. Burridge II
Saturday 6th May 2017 at Vicarage Lane, Ropley

Ropley 327 for 5 in 50 overs
Burridge 220 all out in 46.3 overs
Ropley won by 107 runs
Ropley 24 points
Burridge 7 points
Ropley started their League 1 campaign with an impressive display of hitting at Vicarage Road, posting an entertaining 327 against visitors, Burridge II.

Having won the toss and electing to bat on what must be one of the most impressive early May wickets in the area, Ropley openers Rob Smith and Ed Stennett (28) started cautiously against the experienced Nick Creal (0-48). Brad Griffiths (1-61), bowling up the hill, made an early breakthrough; Smith caught well in the slips for 8. The wicket brought Australian overseas player, Jack Ireland, in at number three. He needed no time to find his way, striking the ball cleanly all around the ground. An early six - high into the trees over mid-wicket - set the tone for a skilful accumulation of runs. Stennett was the perfect foil to Ireland as they put on 114 for the 2nd wicket. Stennett fell to Chowduary (1-47), followed soon after by Alex Spencer. Ireland was caught well at short third man, 11 short of a league hundred on debut, leaving skipper Alexander Stogdon to maintain the scoring rate. Stogdon made the most of being dropped on 18 by scoring an unbeaten 123 to take the hosts to a formidable total. Jack Oxenham (13) and Seb Newens (19*) provided excellent support. The other wickets were taken by Dom Osborne (2-79) and Suji Wickramasinghie (1-60)

Burridge started at an electric pace. Cho Chowduary struck 5 maximums in the opening overs, bringing up his 50 in just the 8th over. Jack Ireland took the crucial wicket - Chowduary well caught at backward point by George Wickens for 56. Opener Simon Bevis (83) went about his work carefully, but Burridge never got going again. 16 year-old Jack Oxenham (3-32) took the wicket of Jack Slaughter, caught behind for 7 after beating the bat countless times. Newens (3-20), bowling his wily spin down the hill, struck twice in two overs to leave Burridge reeling at 99 for 4 off 23 overs, the run rate gradually dropping for a long period in the middle overs. Burridge captain Will Candy (17) was the only other batsman to get to double figures as Burridge limped to 220 all out, thanks in part to 39 extras! Somewhat bizarrely, the 46.3 overs faced by Burridge matched exactly the duration of their innings against Ropley in 2016. Ireland (2-44) and Ed Dixon (2-46) were the other Ropley wicket takers. Ropley - 24 points. Burridge - 7 points.
2017 LEAGUE TABLE
| | Team | P | W | L | T | B | B | D | Pts | Avg |
| --- | --- | --- | --- | --- | --- | --- | --- | --- | --- | --- |
| | Portsmouth & S I | 15 | 13 | 2 | 0 | 81 | 65 | 0 | 302 | 20.13 |
| | Lymington II | 15 | 12 | 3 | 0 | 90 | 63 | 0 | 297 | 19.80 |
| | Longparish I | 14 | 12 | 2 | 0 | 68 | 60 | 0 | 272 | 19.43 |
| | Fareham I | 15 | 10 | 5 | 0 | 72 | 63 | 0 | 255 | 17.00 |
| | Ropley I | 14 | 9 | 5 | 0 | 64 | 62 | 0 | 234 | 16.71 |
| | H & N Basics II | 14 | 8 | 5 | 1 | 67 | 59 | 0 | 228 | 16.29 |
| | Ryde I | 15 | 9 | 6 | 0 | 68 | 65 | 0 | 241 | 16.07 |
| | Bishops Waltham I | 14 | 7 | 6 | 1 | 75 | 55 | 0 | 220 | 15.71 |
| | OTs & Romsey II | 15 | 8 | 7 | 0 | 73 | 54 | 0 | 223 | 14.87 |
| | Hythe & Dibden I | 15 | 8 | 7 | 0 | 71 | 54 | 0 | 221 | 14.73 |
| | Shrewton I | 15 | 7 | 8 | 0 | 77 | 59 | 0 | 220 | 14.67 |
| | St Cross III | 14 | 7 | 7 | 0 | 68 | 51 | 0 | 203 | 14.50 |
| | Burridge II | 15 | 5 | 10 | 0 | 68 | 49 | 0 | 177 | 11.80 |
| | US Portsmouth I | 14 | 3 | 11 | 0 | 68 | 38 | 0 | 142 | 10.14 |
| | Rowledge II | 14 | 3 | 11 | 0 | 47 | 48 | 0 | 131 | 9.36 |
| | Ventnor II | 15 | 4 | 11 | 0 | 51 | 41 | 0 | 140 | 9.33 |
| | New Milton II | 14 | 3 | 11 | 0 | 37 | 50 | 0 | 123 | 8.79 |
| | Sarisbury II | 13 | 1 | 12 | 0 | 44 | 32 | 0 | 88 | 6.77 |
| | | | | | | | | | | |