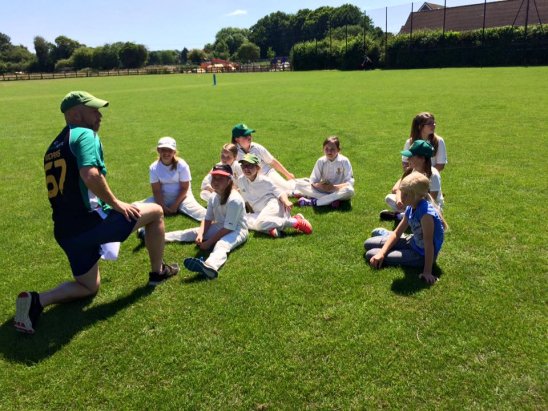 GIRLS Under 11's
Outdoor training is on Monday evenings 6.00 to 7.00 pm
Manager : Sarah Harry 07738 083777 sah838@hotmail.co.uk
Coach: John Cook
2020 SERIOUS CRICKET INDOOR
League

Fixtures.
NEWS & RESULTS
Although we have had a strange summer program of cricket, we have managed to get some cricket, the enthusiasm of the girls has been superb, and they have been a joy to work with.

We are open to all abilities and no matter what level of cricket the girls have progressed and improved with lots of success in the age group. The girls also represent the Open team at Ropley CC which has proven to be good development for the girls.

If you are in school Year 6 and below and would like to start playing cricket or continue with your development, please do contact us to find out more and how to join in.
2020 Round Up
This was a strange season for us all but as soon as we were able to start we got back into the swing of things very quickly, the attendance at training was brilliant week on week and it was great to see some of the girls train and play with the open age group team.

We only had one game and a festival, but the teamwork grew, and the girls all get on so well together. It was a shame that the season was not as long as we would have liked as it would have been great to see this group grow and develop together.
All the girls in the squad have developed and improved, Izzy, Poppy, Chloe, Flo, Ella, Hollie, Ellen, Isla, Bea, Eleanor and Clover are a credit to the club.
One of the players from the team earned their cap for the Hampshire County, congratulations and well done to Flo for her achievements.

We have a few special mentions:

Batting Award - Chloe had a very good season with the bat putting into practice all the hard work she put in at training. Although it was a very short season Chloe has worked hard in the game and festival, she played in.

Bowling Award - Flo was consistent with ball and with 5 wickets in one game was a menace to all batters. Flo has put in lots of hard work in this season and is seeing the benefits.

Most Improved - Ella has had a great season and has improved week on week in training with her batting and bowling.
There will be some movement in the age group, we would like to welcome the new girls and wish good luck to the girls who now move onto GU13's