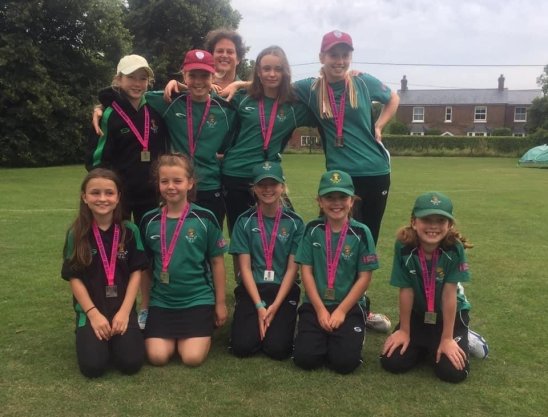 GIRLS Under 13's
Outdoor training is on Monday evenings 7.00 to 8.00 pm.
Manager : Sarah Harry - 07738 083777 - sah838@hotmail.co.uk
Coach : Andrew Morris 07970 048360 morris5714@hotmail.com
2020 Fixtures wwjc indoor League
News & Results
Although we have had a strange summer program of cricket, we have managed to get some cricket, the enthusiasm of the girls has been superb, and they have been a joy to work with.

We are open to all abilities and no matter what level of cricket the girls have progressed and improved with lots of success in the age group. The girls also represent the Open and ladies' team at Ropley CC which has proven to be good development for the girls.
If you are in school Year 7 or Year 8 and would like to start playing cricket or continue with your development, please do contact us to find out more and how to join in.
2020 Awards and Round Up
Without a doubt the 2020 cricket season was an unusual one, but this didn't stop the Ropley girls under 13's team. As soon as they were able to train, they did with 100% attendance and an eagerness to get playing again. Training went well with every player improving in the 3 disciplines.
Matches were always going to be difficult to organise and play with lockdown restrictions effecting teams around the region in different ways. Two friendly matches were played during the summer, both against the formidable Hursley Park team. The first match at home the second at Hursley Park.
In both cases Hursley Park won but by the narrowest of margins and it was obvious that it would not be too long before the Ropley girls would be able to reverse these scores.
Flo joined the team from a younger age group and immediately slotted in playing her part as much as any other player. Jess, Gabby, Aimée, and Tamia helped to keep scores down with their commitment in the field whilst Sophia stepped up to confidently open the batting against Hursley Parks best bowlers.
Freya, who picked up an injury showed her support for the team by travelling to the second match to cheer on her teammates.
Caitlin bravely took on the responsibility of long-term wicket keeper and did so with total commitment often coming away from matches and training, battered and bruised. This did not deter her, being recognised as the most improved player, who continued to impress both coaches and teammates.
Two of the players from the team earned their caps for the Hampshire County, congratulations and well done to Bella and Grace for their achievements.
Players scores are not so important this year but, from the two friendly matches that were played Bella had two great innings averaging 60 runs and Aimée enjoyed the opportunity to bowl earlier in the innings returning scores of 0-13 and 2-8.
There is no doubt that despite the lack of training and matches this small group of cricketers have had a fantastic summer. They continue to grow and improve but the most important part of their success this summer is their attitude. The respect they have for each other, the support they show their teammates, on and off the pitch, and their commitment to wanting to improve is there for all to see along with some amazing smiles and happy faces.

Well done Ropley Girls under 13's team. You had a brilliant 2020 season and are an amazing team.